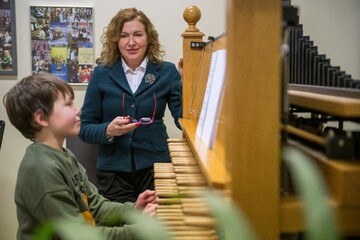 Elena Sadina received her master's degree with highest distinction in 1994 from the State Conservatory in Saratov.
During her studies she worked as a teacher at the Music Academy in Saratov and as a soloist of the State Orchestra in St. Petersburg. She received the final diploma at the Russian Academy of Clock Arts in 1994. She was laureate of the Russian Competition for Folk Instruments in Nizhnij Novgorod, 1989, and winner of the General Russian Carillon Competition in Yaroslavl, 1992; also laureate of the International Carillon Competition in Brielle (The Netherlands, 1999); winner of the International Composition Competition for Carillon, prize Staf Nees, 2002; winner of the International Competition for Female Carillonneurs organized by the Patacon Society with the cooperation of UNESCO, 2005.
In 2003 she earned the final diploma with highest distinction at the Royal Carillon School ´Jef Denyn´ in Mechelen.
In 2009, she obtained second master's degree (carillon), LUCA School of Arts, Lemmens Institute Department, Leuven.
Since September 2004, Elena Sadina has been a teacher at the Royal Carillon School where she teaches carillon playing, piano and ensemble playing.
She took the initiative to establish a class for children to familiarize them with carillon as young as possible and developed the children's study method.
Elena plays on 10 instruments and sings in the Russian folk music group "Zolotoy Plyos", which performs in various countries of the World. She performed in the best concert halls including Great Hall of the Moscow Conservatory, John F. Kennedy Center For the Performing Arts in Washington, De Singel in Antwerp and State Academic Capella of St. Petersburg.
She has made several concert tours and participated in various festivals in Europe and the United States of America. Since 2000 she has been a guest teacher at Middlebury College (USA) and in 2003 she became carillonneur in Hulst (Netherlands).