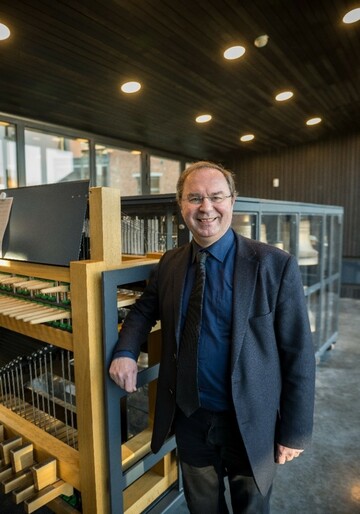 Koen Cosaert is director of the Royal Carillon School Jef Denyn in Mechelen, the oldest and largest institute for carillon art in the world.
As part of the Belgian carillon culture, the carillon school enjoys the recognition of UNESCO as 'Best Safeguarding Practice' for the intangible cultural heritage. At this school and at the department in Roeselare he has been teaching campanology and carillon playing since 1987.
He is city carillonneur in Kortrijk, Izegem, Harelbeke and Roeselare. He has made concert tours throughout Europe, the United States, Canada, Japan and Australia.
He represents the carillon school in the Flemish Carillon Association and in the Belgian Carillon Heritage Committee. He is a board member of the Flemish Carillon Association and of the World Carillon Federation (WCF).