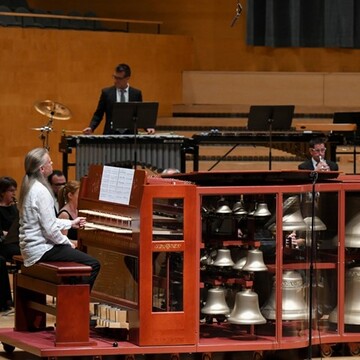 Koen Van Assche is the author of a study method for carillon playing and gives carillon lessons at the Carillon School and the Academies of Lier and Puurs.
He is city carillonneur of Antwerp, Lier, Turnhout and Herentals and a much sought-after guest carillonneur in Europe, the USA and Australia. He is honorary president of the Flemish Carillon Association and president of the World Carillon Federation.
During international carillon competitions he won several prizes (including the Fabiola competition) and his carillon playing was published on 7 CDs, including an integral performance of "The Four Seasons" by Antonio Vivaldi and a CD in combination with various musicians.
He has been organizing and performing classical concerts for carillon in interplay with other instruments for more than 20 years. Since 2014 he performs these concerts on his own mobile carillon (www.bronzenpiano.com), a project together with Anna Maria Reverté. This carillon could be heard, among others, in the famous Sagrada Familia (Barcelona), in ensemble with string orchestra.