Learning to play the carillon
The carillon is a unique and fascinating instrument to play. Students come to the instrument at all ages and from all backgrounds—or simply from curiosity about the beautiful bell songs soaring over the city.
Julia Toumassian playing Tchaikovsky's "June: Barcarolle" from Les Saisons (arr. Jo Haazen)
Students learn on practice carillons, which resemble real carillon keyboards but the bells are replaced with tone bars similar to those of a xylophone. Students must also access a real carillon to learn how to adjust to different bell weights and the range of expressive possibilities unique to each carillon.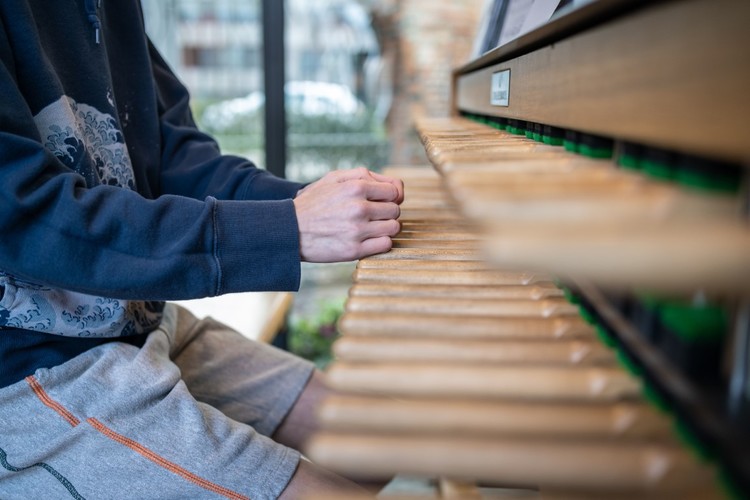 Photo: Karin van Hees
Other areas of study are the history and science of bells, music theory and composition. Music arranging and improvisation are important skills for carillonneurs because music played on a carillon is often adapted from music for other instruments.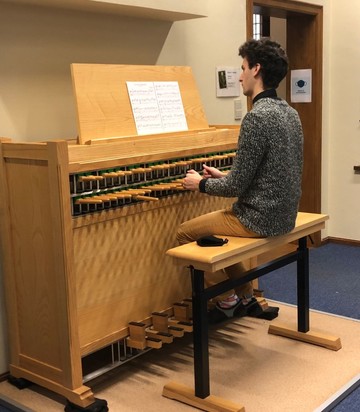 Beginner lessons to Masters degrees in carillon are offered at universities and music schools around the world. There are a number of international competitions in carillon performance and carillon composition. Towers will employ players as resident carillonneurs who are responsible for playing concerts and organizing concert series. Players also perform as guests on regional or international concert tours. Teaching, composition, librarian and research opportunities are also available to carillonneurs.
The Royal Carillon School 'Jef Denyn' in Mechelen, Belgium is the world's premiere institution for carillon training. Founded in 1922 by Jef Denyn, who is credited with creating modern carillon culture, the school offers a comprehensive, flexible program to students of all ages from around the world.
Photo: carillon student at a practice keyboard